Thanks for stopping by! Early in 1992 I saw my first lampwork beads while vacationing in Arizona. The world stood still when I realized they were made by hand....one at a time! Could it be that I could learn to do such a thing? Play with FIRE? After purchasing a few beads, I decided to give this amazing process a try so that I could individualize the jewelry I had just started making. Finding a teacher was my next order of business (not as simple in '92 as it is these days!). To make a long story short, I ended up purchasing a torch, some glass and Lewis Wilson's first video at Glasscraft and just took off from there! I've been happily making "Cindybeads" ever since! While I still continue to make and sell a little jewelry, there is nothing like "melting" to fill my days with happiness!

I have a "signature" on many of my beads- a pawprint.

For those of you who don't know why (and would like to) feel free to visit the
Before Cindybeads Page

Prices for my lampwork beads range from $10/pair to $50 each.
The cost is dependent upon the size and complexity of design.

Quantity Discount/Wholesale Policy


The Beadmaking Process:

The torch I use is the "Lynx" torch by Glass Torch Technolog

y

, which mixes propane and oxygen at the surface of the torch head. The Nortel Minor burner is also an excellent torch. Most of my beads are made with Effetre glass made in Italy. I have had good results, also, with
Kugler,

Bullseye and Urobor

o

s glass and have experimented a little with boros

il

icate and Satake glass.
Read more about the studio/setup.



-





So", you may ask, "where can I go to see and feel some CINDYBEADS?"
Here's a listing of some shops that carry them.






GL'S Hot-GLASS Link Exchange








Contact Me at:

Reviews:
| | |
| --- | --- |
| | Interweave Beadwork- Spring, 1998, "The Cindybeads Sensation" |
| | Women's Circle- April, 1997 |
| | |
| --- | --- |
| | Lapidary Journal-July, 1995, "Great Balls Of Fire!" |
| | Denver Post, Living Section-July 26, 1995, "Great Balls Of Fire" |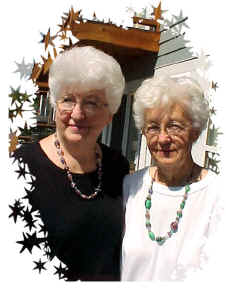 "Cindybeads Promotions & Marketing Division"


My Mom, Edy (left) and my Aunt Imo have been found
traveling around together wearing massive amounts of
Cindybead jewelry for many years now.
My aunt Imo, sadly, passed away in October, 2010, but Mom is still out there marketing her heart out.
She actually lives in Arizona, but travels lots and
might be found anywhere, anytime......

Beware of being accosted by Mom and forced to
hear all about Cindybeads! We love and miss our angelic Imo!

for your interest!......Visit Often!


This page was last updated November, 2017


by Lucinda Brown





Special thanks to Rebecca Thomson....my first bead buyer,
artist extraordinaire, advisor and friend.....for the wonderful bead drawings sprinkled around the pages of this site!



Visits since 1/
15

/

08


Free Top Site


Contents of this website and the images of beads and jewelry represented here are the
property of Lucinda Brown and may not be reproduced without prior written permission.



PERSONAL PAGES:
Before Cindybeads...Historical stuff about me