Cindybead Necklaces




K

aryn Hanson
Olde Hippie Beadworks
Conifer, CO
Karyn creates a full line
of "Cindybead" Jewelry

Pictured

is

Karyn's necklace
featuring a Cindybead focal, brown pearls,
amethyst, sterling and seed beads



E-Mail Karyn for pricing details
or call her at:

303-

587-2299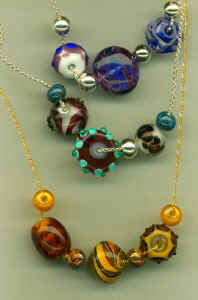 Three necklaces combining Cindybeads
with sterling and gold fill chain.

No clasp on these,
they just slip on and off over the wearer's head!

Simple!

This is also a great way to display feature beads until you find that perfect permanent use for them!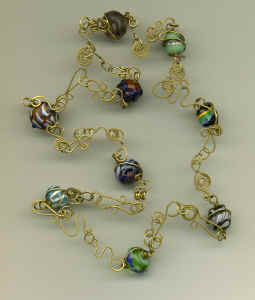 Wirework Necklace
by
Darlene Maestas


Brass wire & Cindybeads

Contact Darlene at:
303-425-5858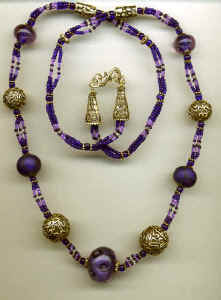 Multi-Strand Necklace

Created by B. J. Wiens


Cindybeads, Balinese silver
and seed beads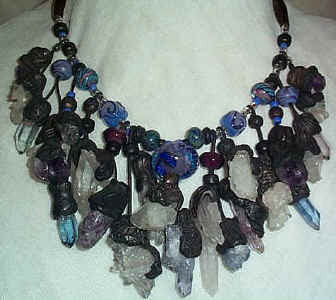 Created by Rebecca Thomson
The Mystic Warrior 303-431-6628
E-Mail Rebecca
Quartz Crystal Clusters, Pearls, Lepidolite and Handmade Lampwound Cindybeads. This handmade piece (necklace, diadem, decorative hanging) is a combination of 26 crystals: 12 quartz crystals, 6 amethyst crystals, 7 aurora quartz crystals (lovingly infused with titanium and other precious metals), one polished lepidolite stone, 5 pearls, 11 handmade glass beads, small glass beads, 2 hornpipe tubes and 1 turquoise button clasp.
This piece was inspired by memories of the beautiful crystal clear diving experiences in the Caribbean sea and dreams of Atlantis legends. The length is 19"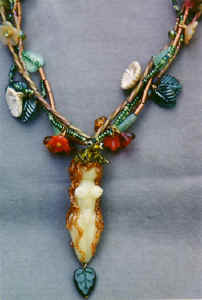 "The Frog Princess"
This "yummy" necklace features
a Cindybead goddess
Created by Vilma Dallas
Dallas Designs
303-469-1968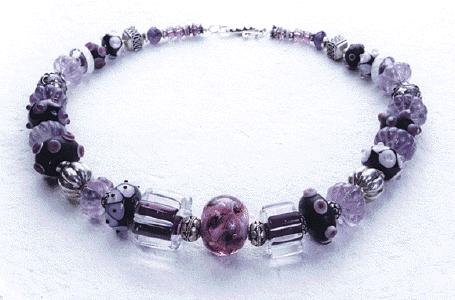 Necklace of Cindybeads,
Sterling and Carved Amethyst

by Janet Jenner
Fayetteville, Arkansas
501-521-5905
Three Freeform Necklaces
by Joanne Bast
Littlestown, PA

incorporating my carved, fused glass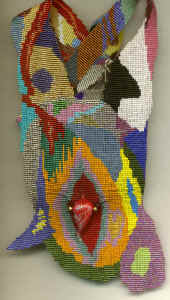 "Feminine Expression"
Designed and Beaded by Mary Timme
The Cindybead dichroic focal
bead was created especially for this project
Contact Mary at:
303-693-6732
e-mail


See more at Mary's Site!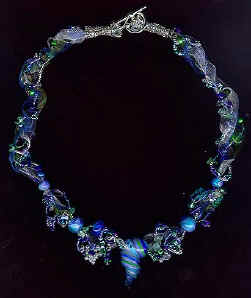 "Sea Whirl" Necklace
by Kristen Smith

includes one my "tornado" beads
as well as several pair
of my smaller beads....
Click to enlarge image--it has ribbons woven into it!
WONDERFUL!
Visit Kristen's website, Stringtheory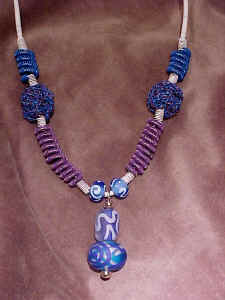 Wire bead (and Cindybead) Necklace
by Cyndy Johnson
Lakewood, CO

The pendant on this necklace features a "change a bead"
which allows the wearer
to change the pendant at will.......cool!

Call Cyndy at: 303-989-1072

Three- strand Necklace
Created by Pete Names
Denver, CO
Cindybead is fuchsia and is offset by
several dichroic beads by John McBride.
The necklace also features garnets
and fresh-water pearls

See Pete's Website!

MORE Beads: Set 1 Set 2 Set 3 Set 4 Set 5


Visits since July, 1999