~The HOPE Bracelet Project~
Beads making a difference

for Project Mercy.......


in Yetebon, Ethiopia....... and the World!
HOPE Bracelets:
Helping Organizations Promote Education
Overview
The HOPE Bracelet Project is collecting beads and jewelry making supplies, and then teaching students at the Medhane-Alem School in Yetebon, Ethiopia to create limited edition, beautiful bracelets.




We are proud to report that, thanks to the generosity of "bead people" all over the US, we were able to collect beads, create and sell 500 bracelets in 2003, raising $50,000 for Project Mercy!
Between 2003 and 2010, the team at Project Mercy has produced 500-1,000 bracelets each year and we have been able to raise $50,000-$100,000 annually for this wonderful cause. Here are the listings of our donors by year:
2003
2004
2005
200
6
2007
Since 2010 Project Mercy has built a lampworking studio and have students and adults making beads right there in Ethiopia! They also continue to create wonderful HOPE bracelets that are offered for sale through the Project Mercy website. These bracelets make wonderful gifts and, as from the beginning, change the lives of everyone involved!
To make Monetary Contributions...............
make checks payable to Project Mercy.

Checks should be mailed to:


Project Mercy, Inc
7011 Ardmore Ave.
Ft. Wayne, IN 47809



Project Mercy Website







Each HOPE Bracelet features a sterling silver clasp created for HOPE by Colorado jeweler Michelene Berkey.
Note the tiny dove on it!

Each bracelet also includes a sterling "HOPE" bead
designed for us by Robert Burkett and denotes the year the bracelet was sold.
It is just above the clasp in the bracelet above





The HOPE Bracelet Project is designed to share the talents and resources of a group of motivated volunteers in America with the people of Ethiopia through donations of beads and supplies to the Project Mercy organization. Our project will help "teach them to fish" by teaching them to create beads and beaded jewelry, and will create an ongoing source of new skills, revenue and pride in their craft. The lampwork beads and jewelry will be made by students working and studying at Project Mercy.


Making bracelets
and BEADS at Project Mercy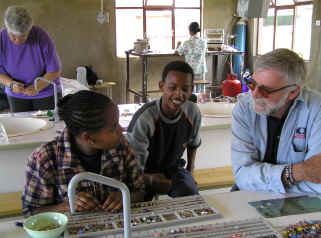 Product Sales for Fundraising
From the beginning of the HOPE Bracelet Project in 2003, each new batch of bracelets was "unveiled" at a reception at STRINGS Restaurant in November. Sadly, Noel Cunningham passed away in late 2011 and Strings has also moved into the sweet past. Project Mercy continues to support the lampworking studio in Yetebon, Ethiopia and continues to market Hope Bracelets through their website. MANY thanks to TRICE JEWELERS in Denver, CO for generously marketing the bracelets for many years....... returning all proceeds to Project Mercy.


PHASE II- Creating Beads in Ethiopia
Thanks to the most-generous donation of a complete lampworking setup, several budding beadmakers are melting glass at Project Mercy!
Arrow Springs Frantz Art Glass

and Glasscraft
have truly outdone themselves this time in donating this valuable equipment!! Beginning beadmaking classes began during our October, 2004 trip to Yetebon and

the studio was expanded to 4 torches in October, 2006. Three beadmaking instructors were available for over 3 weeks and we trained 6 students to make beads, heart shapes in particular.

A lampworking building has now been constructed at Project Mercy and several workers continue to create beads made in the HOPE bracelets.........careers are being created and families are being fed through the impact of HOPE and the dedication of Marta and Deme!
See this amazing movie taken in the beadmaking studio at Project in 2007..

HOPE Heart Beads from Brent Weaver on Vimeo.
Movie of Marta making a bead! Long download, but NICE!
Gete is looking on and Cindy is offering advice. Thanks, Rita, for the wonderful "action" shot!
Why Project Mercy?
Local Denver community leaders Tammy and Noel Cunningham spent MANY years supporting Project Mercy via their community fundraising and personal donations. They have visited Yetebon and know the school founder Marta Gabre-Tsadick, herself a community leader forced to flee Africa to escape the Communist takeover. Marta and her husband Deme, have returned to Africa and have dedicated their lives to helping the African people. Since the school provides education for grades Kindergarten through high school, it is the hub for The Yetebon Project. It also offers vocational and skills enhancement programs for adult men and women to teach them marketable skills, thus raising the quality of life for their whole community.
Tammy and Noel have joined a network of Americans, using our talents to support their efforts.

How Can I Help?
Make a donation to Project Mercy to help them purchase glass for their lampworking
studio in Yetebon, as well as stringing supplies and other beads
incorporated into each awesome bracelet!
For more information about Project Mercy, please visit
their website at www.projectmercy.org.


Thank you in advance for your help!


Visits Since November, 2004