Edd & Cindy's Dream Home
IS COMING SOON.... Phase 1

11734 West 76th Lane Arvada, CO 80005
(in FOX HAVEN FARMS)
STEP 1
Edd found this property on one of his "walkabouts" along the Amtrak Railroad tracks. Over the past few years, he has scouted the land along the tracks from Denver to Wondervu looking for the perfect land on which to build the perfect home. Edd's " perfect home" criteria include:
| | |
| --- | --- |
| | An unfinished basement in which to create his HO model railroad |
| | An un-impeded view of the train as it passes by the house, both from his desk and his recliner |
Our present townhome is close enough to the tracks that you can throw a rock and hit the train from either of our decks, but there is no room for a model train layout. We're also feeling sort of cramped since we have TWO home-based businesses running out of our house and, often, customers intersect with one another. Cindy's studio is housed in the basement storage area, so we have very little space to keep all those "essential" things we've accumulated over the years.....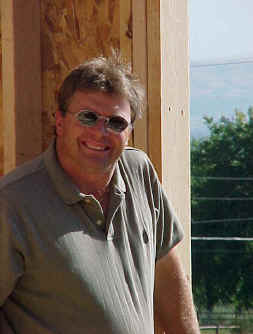 STEP 2
We contacted the Fox Haven Farms folks and learned that Lot 6 was,
indeed, still available. Building rights had already been promised to
Roger Peterson of PHI Homes. We met with Roger on March 9 and
on March 11 he presented us with the first draft of our custom
blueprints! This guy is QUICK!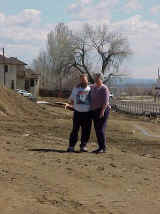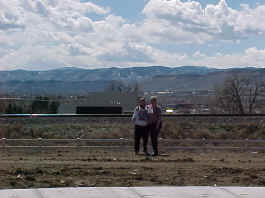 Our buddy Susan took these pictures for
us on March 30, 2001
<----- taken from the west property line
looking east.
taken from the street ------->
looking south
STEP 3
A ground-breaking ceremony was held on April 15, 2001. As you can see, Edd has survived yet another Tax Season and is none the worse for wear. Mother Nature and the Easter Bunny cooperated to give us perfect weather for the celebration. Even " EDD'S TRAIN" made a timely appearance!
STEP 4
The floor plan and engineering work required to get the building permit seemed to take forever! Here's the most recent drawing of what our home should look like from the street...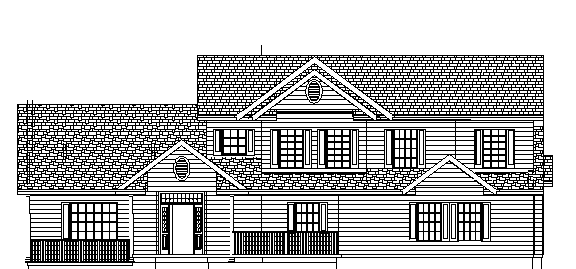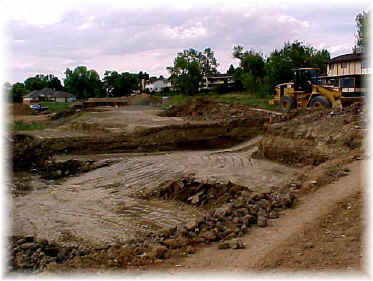 STEP 5
At long-last.......a big hole in the ground has been excavated!! Edd got up bright and early on July 30 to memorialize the big event!

Roger tells us things will start moving along QUICKLY
from now until completion in Dec, 2001!
STEP 6
August 2
Drilling and pouring the caissons so the home will have a solid foundation.....
we have expansive soils
in the area.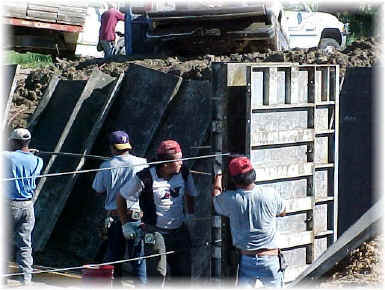 STEP 7
August 3
NINE guys set the forms
in preparation for pouring the foundation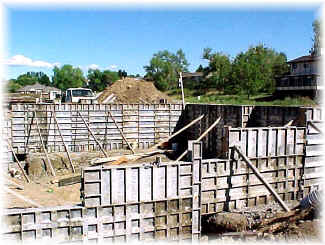 The foundation hardened
over the weekend of
August 4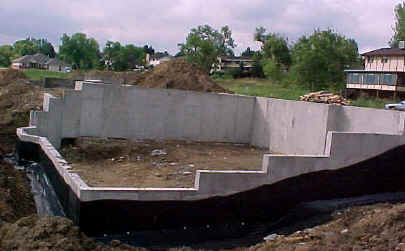 STEP 8
August 9

Here's the completed foundation
complete with waterproofing
and a "French drain" around it
to help keep it dry and stable.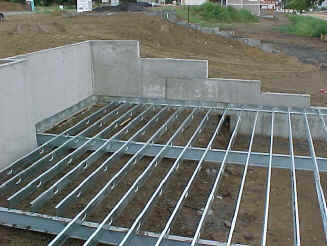 STEP 9
August 16
These beams will form the basis
for our basement "structural floor".
Since our lot has expansive soils,
we needed to construct our home this way
rather than having a poured concrete floor
in the basement.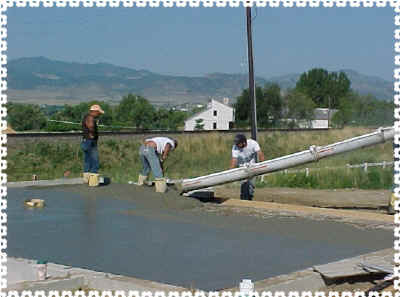 STEP 10
August 18
The garage floor was poured
and laboriously smoothed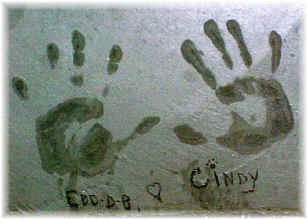 Then we just HAD to get in there and make a mess of it.....
( We almost waited too long!! )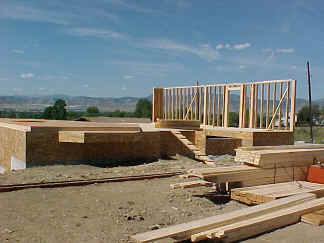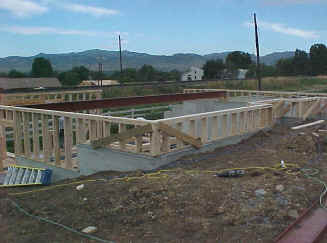 STEP 11
August 24
Let the
Framing
Begin!!