Creating Custom Beads
Inspired by Textiles........
A recent project was to make a heart
to match these two scarves...
THE WONDERFUL STORY BEHIND THE PROJECT:
Karen Wrote:
I have a special project which is dear to my heart. My daughter is getting married on May 5 this year. My very best friend is coming down here (Florida) from Michigan - I have known her since we were 2 (we are now 52). When we were young, we used to play dress up. My father traveled a lot and bought silk scarves in every state he visited and brought them home to me. Beverly and I would dress up in these scarves and dance to the Nutcracker, etc. Of course, we each had one scarf that was our special scarf - mine was turquoise in color and her's was chartreuse - the other scarves didn't matter who got what, but those were each of our special ones. I would like to have some kind of bead (I was looking at your beautiful hearts) made incorporating both of these colors - I am attaching a picture of the two scarves so you can see the colors. I would also like the bead in a finished form as a necklace so she could wear it to the wedding (I want to give it to her at the rehearsal dinner) - I don't have any brothers or sisters and we used to call each other "sis" and she still calls me "sis" so we are probably closer than most blood sisters - I was adopted and we used to pretend that we were really sisters, but no one knew!


____________________________

This Amazing Jacket
inspired Zelda Bailey
to create a wonderful necklace
to accompany it.

At her request I made several large beads for the customer's consideration as the focal point, and Zelda worked her magic.......
It turned out great, didn't it?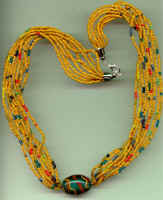 Click for a close-up!
Visit Geodyssey to see more of Zelda's wearable Art!
____________________________


Return Home Other Great Jewelry Beads Bracelets

Necklaces T-Shirt Transfers Links