Making Even MORE Bracelets-2004
Support has been amazing this year and donors have sent in beads from all over the country....lampwork, silver, supplies, filler beads....your generosity has been so heartwarming and fulfilling! We received enough beads to allow us to make 1,000 HOPE Bracelets this year...double the number made in 2003!
AND, they are Beautiful!
Early in 2004 we sent donated beads to Ethiopia with other volunteers helping at Project Mercy. By the time the 3 of us Bracelet Moms arrived, there were over 900 bracelets already pre-designed on Soft-Flex with the ends taped... The casting of the HOPE04 bead and the Project Mercy clasps took some time, so those were hand-carried by our group on October 6.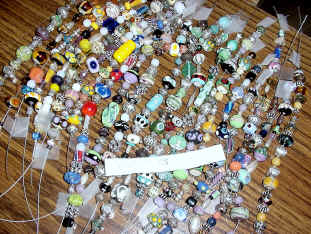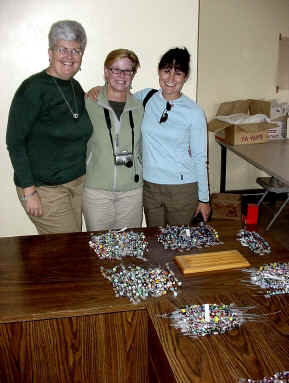 We (Cindy, Devon & Alissa) were Soooo Happy
(and tired) when our tour got to the bracelet room! These are just a few of the pre-designed beauties, batched by the person who created them.
These are the folks who designed the lion's share of this year's HOPE Bracelets! Clockwise from top row left:
Zanesh Agrie Gete

Alfya Eshetu

Zewdu (top row, center below)
worked in the core group, as well.

Other bracelet makers in the pic below
were trained during our October beading frenzy...THANKS!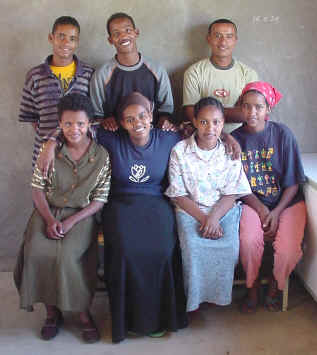 SO....
We set up the bead shop in what will soon be the chemistry building at the Project Mercy School Campus.
Great light and lots of table space...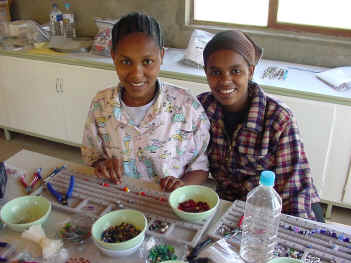 Zanesh and her sister Gete, a veteran
bracelet maker from Phase 1, got right to work!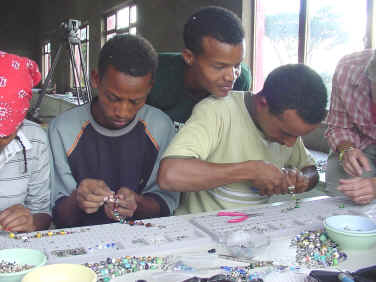 As did we ALL!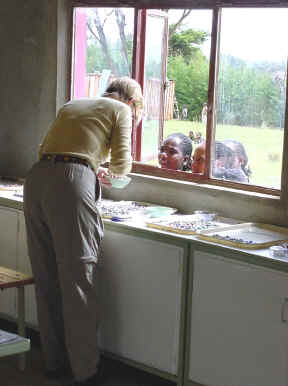 There were always student outside
wondering what on earth we were up to
and eager to help!
Devon spent HOURS explaining how we were
making bracelets to sell to help their school.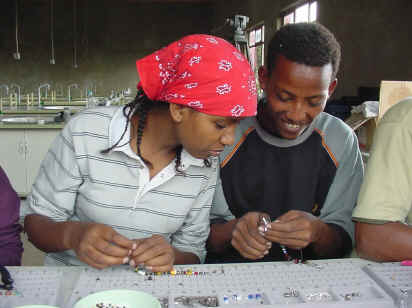 Agrie remains the unofficial leader of the HOPE core group. The others look to her for help and advice and she is great at Quality Control. She speaks excellent English and her design sense is spectacular!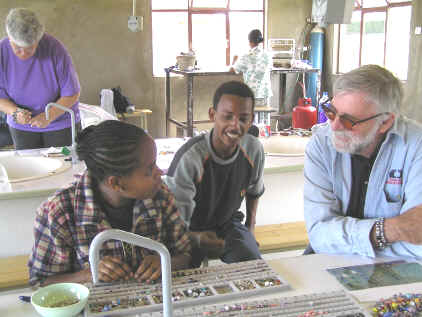 Lots of other members of our contingent would drop by for a visit. Here's Noel Cunningham, our fearless leader, visiting with Gete & Zewdu.
Curious about what's happening at that TORCH in the background?
I thought you'd NEVER ask!

That's right, Alfya is making
a lampwork bead!

See all the beadmaking Pix!
And, just as exciting, our group was gifted with the presence of a film maker, Patty Bonnet. She joined us to document what Project Mercy is doing in the Yetebon community and how normal, everyday people from the U.S. are helping to raise funds to help....
as well as raise the consciousness of other Americans.
Patty interviewed Agrie and Zanesh with the assistance of her "student crew". She was usually in the company of at least four "assistants".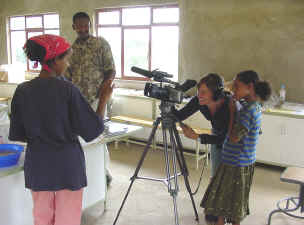 Look at all the bracelets in the background of the image below! ~ WOW ~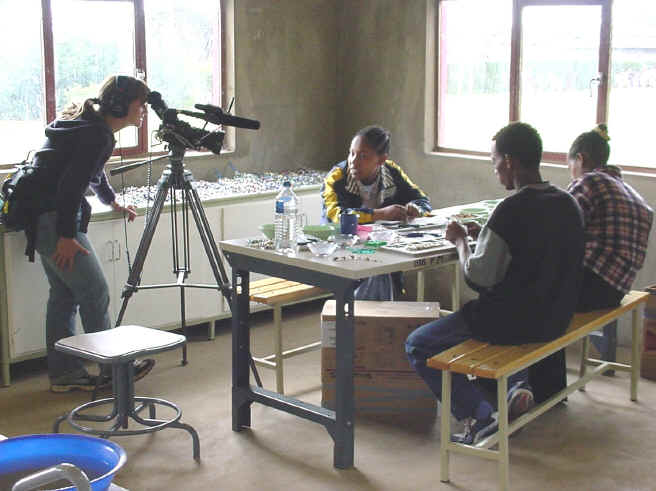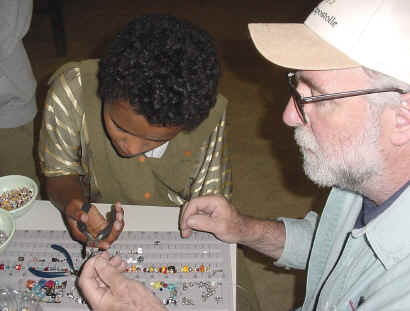 As only Noel can do, he recruited Etagen, a new Project Mercy student and resident, into the HOPE Bracelet Project. Since her left side was disabled during an illness several years ago, she wasn't really considered as a candidate for bracelet making by the rest of us.
Noel has worked another miracle....
AND
Etagen deserves her own PAGE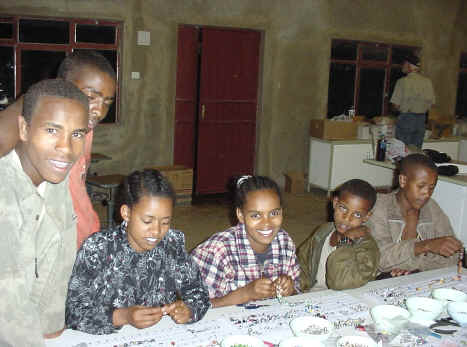 These dedicated
beaders would even
work after dark!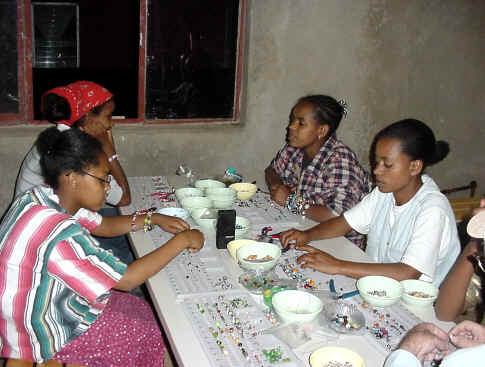 .....and very often
treated us to a few
hymns as well
Beads and singing
what a great way to spend an evening....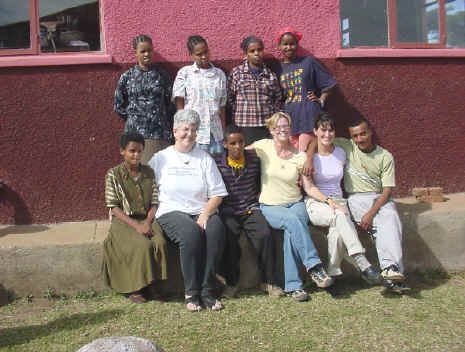 After finishing up the bracelets we had time for a "family portrait".
THANKS, TEAM!
Then it was time to pack up and say those difficult "goodbyes"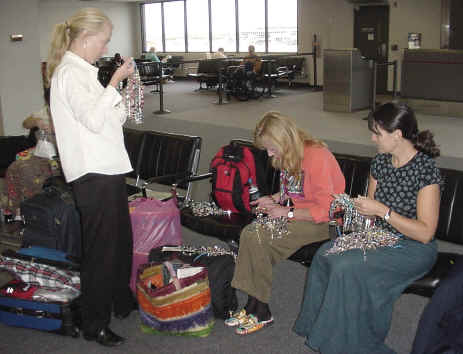 The enthusiasm persisted on the plane back home...
and even in the Dulles airport during our layover. Our first HOPE Bracelet Sales
happened right HERE.
So now, we're back and ready to do the easy part.....
...selling these beauties!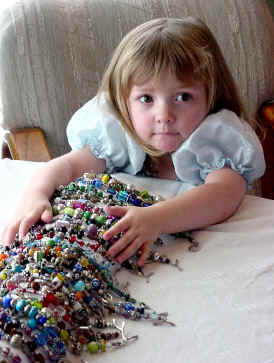 How's a Princess
to DECIDE??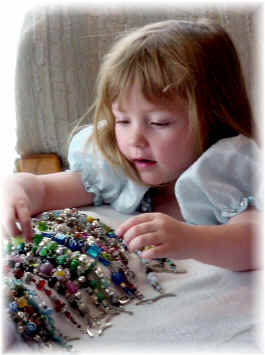 Emma Jane, You Cutie!
See MORE pictures of her!
Thanks for your interest and your continuing support!

Keep those beads rollin' IN!



Visits since Nov, 2004