Etagen's
~~~ ~~~
Story

When she arrived at Project Mercy, Etagen's spirit seemed to have been broken. I understand that several years ago she suffered a stroke (she is now about 17 years old) and was in the hospital for several months. Her brain was damaged, causing severe problems with control of her left side. During a home visit by one of the students at Project Mercy he observed that her family had given her up to another family who treated Etagen worse than they would treat a dog, providing some food for her, but little else. These caretakers willingly "adopted" her to Project Mercy. The staff reports that when she arrived, Etagen was not readily accepted by the other students. She had no use of her left hand and when she walked she dragged her left leg.

~~~ Enter, Noel Cunningham ~~~
In October, 2004, about 6 weeks after Etagen's arrival at Project Mercy, Noel, Tammy and their group of 13 others (myself included) showed up. Each of us busied ourselves with our assigned tasks.....
As soon as "the bead shop" was up and running (making HOPE Bracelets and melting glass) Noel arrived with Etagen in tow. Who knew he had such patience and determination- and that she could actually DO IT?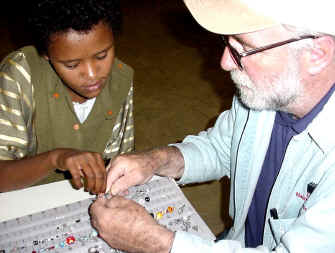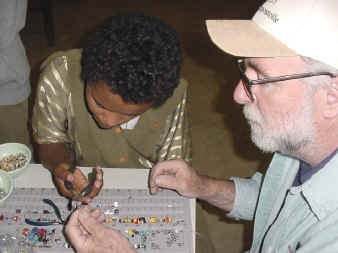 Noel returned with her every day and helped her make bracelets.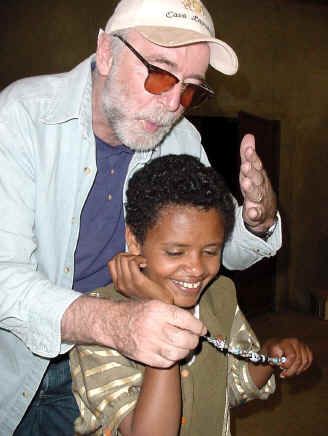 Etagen was so very shy in the beginning!

Noel would kiss his hand

and touch her forehead

every time they completed

yet another bracelet.

The two became
a great team...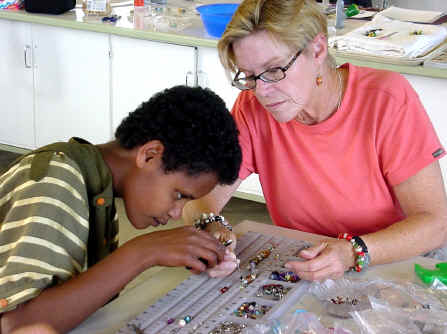 ....and here
she is working
alongside Devon.
We couldn't talk much--
our Amharic and her English
weren't anything to
brag about...
but Etagen is a quick study!

Each bracelet she made was
set aside so Noel could make certain
it found a good home with
a worthy HOPE supporter!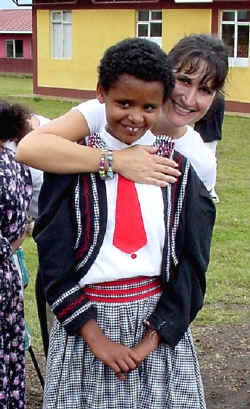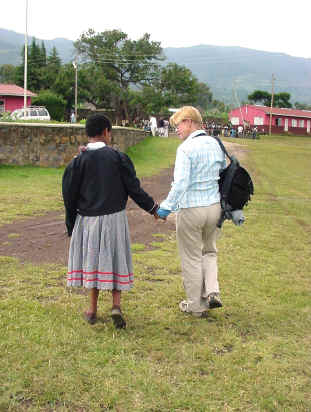 We
"bead girls" got to know Etagen better as time went on...
...and each of us devoted some special time to encourage her.
It is our hope that the other students will follow Noel's lead and accept her into their ranks!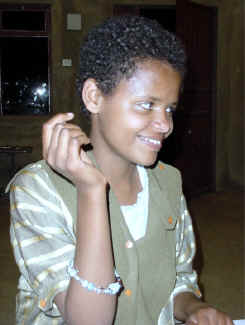 What a Sweetie!
....AND

Smart, TOO!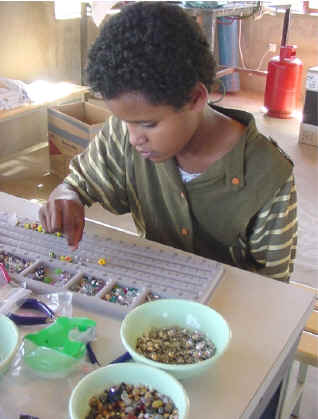 On our last bracelet-making day,
there was no one there to help her
when she arrived.
I turned around and was shocked to see
her making bracelets all by herself...
They were perfectly completed-
even the crimping
and Beautiful, Besides!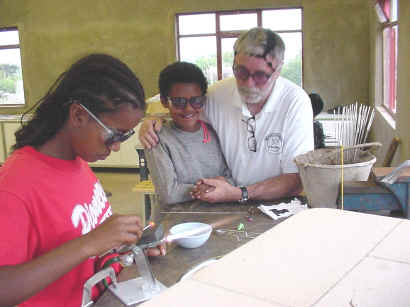 Noel could see that Etagen was
interested in the TORCH,
as well.
He brought her around to observe..........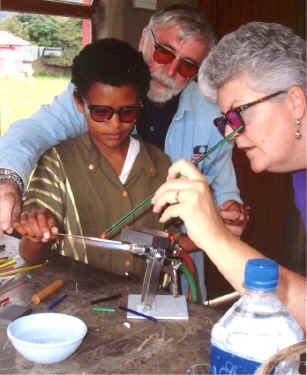 .....and the next day,
with a little help,
she made her very own
lampwork bead!
By the time we finished the bracelets,
Etagen was a solid member of the HOPE Team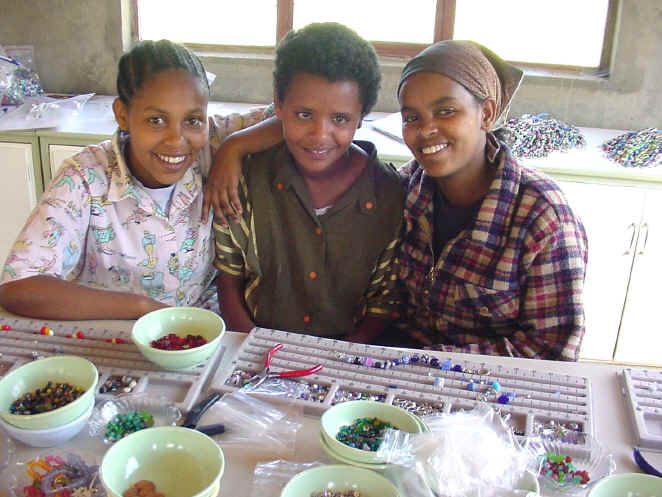 By the time we departed, Etagen was walking around the campus without any assistance. Her smiles came naturally and it was obvious that her future is a brighter one. Since our return, we've gotten updates about Etagen. Staff says the change in her and acceptance with the other students is remarkable...no less than a miracle. Now that she has a secure place at Project Mercy, her education will continue and she will form close friendships with others who accept her and her limitations.
Etagen has had a rough start in life, but she now has a secure home and is forming friendships with the other "house kids".
THANKS,
Noel
!
October, 2006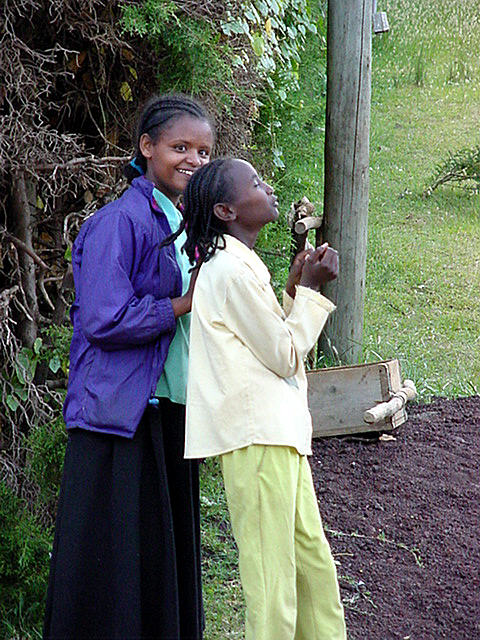 Wow! Etagen is doing SO WELL!
She is able to walk much more easily, although she still is unable to use her left hand at all.
Etagen has formed close friendships with many of the other students. Pictured here is one of the new aids orphans, Lemlem, who has become an especially good buddy.
As soon as he arrived, Noel
found Etagen and brought her into the
new glass studio for a visit.
All the 2006 HOPE bracelets have already
been made, so there wasn't much
stringing to be done, but Etagen did
make several men's bracelets while we
were sorting beads for 2007.
Back to Ethiopia 04 Back to Ethiopia 06

VISITS SINCE NOVEMBER 22, 2004