There's FIRE in Ethiopia!
No worries, it's a Beadmaking torch
Thanks to an awesome donation by Arrow Springs and Frantz Art Glass, we were able to set up a state-of-the-art glass beadmaking studio at Project Mercy. We set it up temporarily in the chemistry building at the school campus.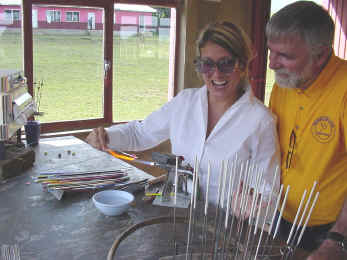 Predictably, it was Noel and Tammy who pushed and prodded to get all that lampworking equipment to Ethiopia NOW, not in 2005 or 2006! Both are budding beadmakers and saw the vision of introducing a new trading commodity for Project Mercy...right in their own community!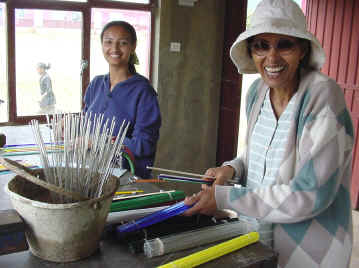 When Marta made her first bead at the Flame A Thon in Denver in Nov, 2003, she was hooked! Beza, a member of our esteemed Denver group, but Ethiopian by birth, helps Marta set up to make our First Project Mercy BEADS. The mandrels are dipped and ready to GO!
See a Movie of Marta making a bead! Long download, but NICE!
Gete is looking on and Cindy is offering advice. Thanks, Rita, for the wonderful "action"!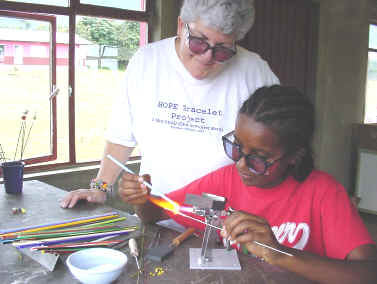 Agrie was one of the first to "take the plunge" and I was amazed at the quality of her very first beads! By day three, she was teaching and coaching the other new beadmakers. A Leader to the MAX~

Other "core" bracelet makers got priority since teaching time and oxygen were at a premium. We also had to share the propane regulator with the kitchen...

Ethiopian fuel is very strange and I found the torch difficult to adjust properly. Either the fuel was not very pure or it is more like Mapp gas....weird
The beadmaking process
drew spectators like moths
;}
This gentleman is a teacher at the school...one of 2 that received instruction.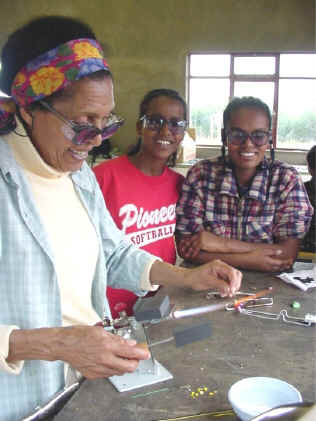 Marta took time out of her busy schedule
to drop by and make a bead or two! She's a natural...
....and you can SEE Gete Loves it!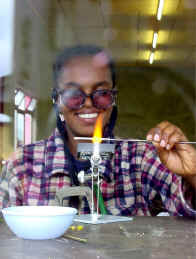 ~ Every day as they played, the others watched and were amazed ~

So

Eager

To

Learn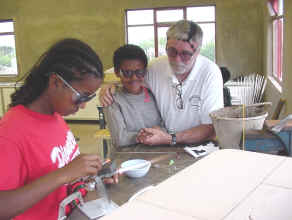 One day Noel brought Etagen into the shop. Who would have thought that she would be able to make a bead....one hand is practically useless! But Noel has a habit of making magic happen...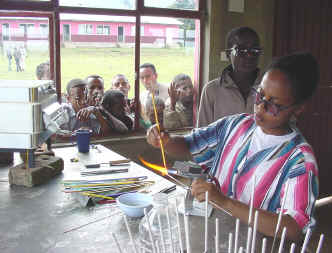 Zenash hard at work-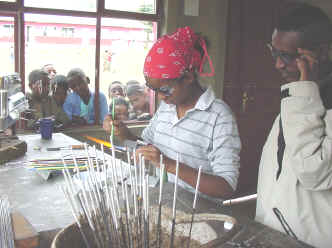 -Agrie deep in concentration...
even with an audience.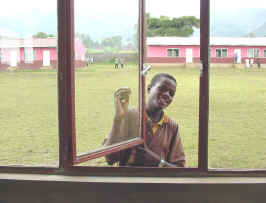 A couple of guys begged, pleaded, washed windows for us....ANYTHING to get me to let them play on that torch. As luck would have it, one evening there was a torrential rain storm and we HAD to let 'em IN....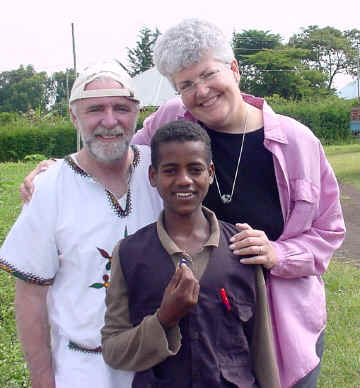 The rest is history
and we wouldn't have it
any other way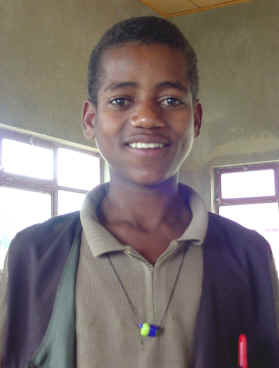 Many thanks to Noel, Tammy, Arrow Springs, Frantz Art Glass, Marta & Deme....it wouldn't have happened
if not for each of you.
Also, many thanks to the others on the HOPE team.....teaching took me away from my stringing duties. That meant that Devon, Alissa and everyone else had to take up a lot of slack.
I owe ya!
I couldn't have asked for more gifted and eager students! To see a country boy make a bead that is half green and half blue on his first attempt at the torch is pretty darned astounding.... we'd better watch out for these Project Mercy Beadmakers!
It is our hope that next year there will be one bead on each bracelet that was made by the Project Mercy Beadmakers. They certainly seem motivated and talented enough to produce the 1,000-2,000 beads necessary for this endeavor....wow... Eventually the artists will decide what path their marketing efforts will take and we wish them the best of luck! Beads/Africa....who knew?
Thanks for your interest and your continued support!
I've been saying that this is the only lampwork beadmaking studio in Ethiopia...
Can this be TRUE? What about other African countries?
If you have such information, please let me know!!!
Thanks! Bead Happy!
Cindy



visits since Nov, 2004