HOPE ~ Flame A Thon FIVE
at the NEW Bella Building
3950 Wynkoop (basically off I-70 and Washington St.)
May 21, 2005
10 AM - 5 PM

We helped Shannon break in her new, fabulous building! Bella now happily occupies a 6,000 sq. foot building and a brand new glassworking studio for our "melting enjoyment". Once again, Bella provided torches, glass, fuel and oxygen while NINE beadmakers donated our time making beads for the HOPE Bracelet Project.
Thanks to all of you who dropped by to help us.... for a BELLA tour, to gaze at all the wonderful glass art for sale, and just to watch! We had 40 volunteers......The "sorters" organized SIX big boxes ($30,000 retail!) of Soft Flex wire and matched up 435 sets of lampwork beads. The beadmakers made 279 beautiful beads that will also go into the bracelets.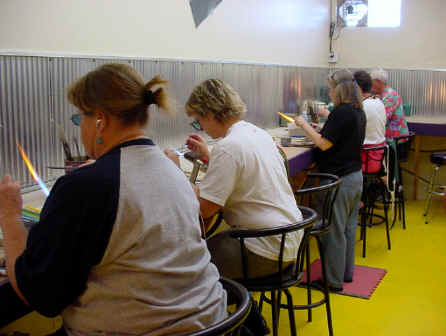 The new studio is
FABULOUS!
Here our beadmaking volunteers
are creating brand new HOPE beads!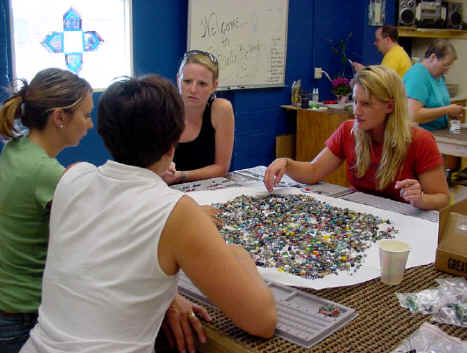 There were LOTS of lampwork beads
donated over the past several months
that needed to be sorted into sets..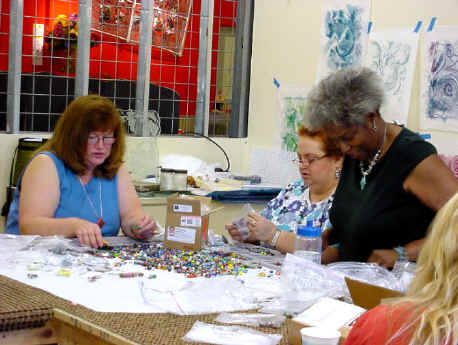 .........LOTS of beads!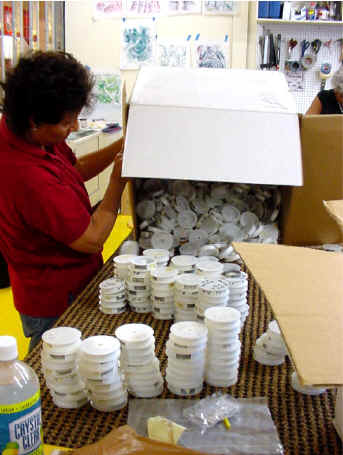 Did I mention that Soft Flex also donated
a HUGE amount of product to HOPE, as well?
SIX BIG BOXES!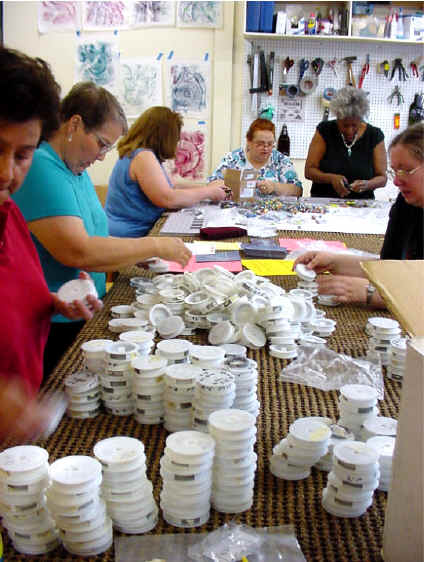 Volunteers from the
Rocky Mt. Bead Society
comprised most of the skilled labor
for all this sorting! THANKS!!!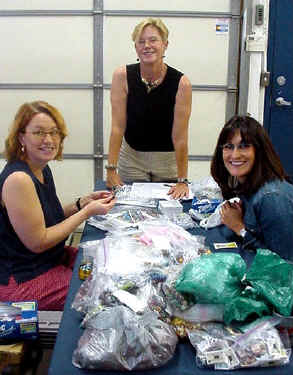 These 3 ladies are the Heart & Soul
of the HOPE Bracelet Project
Betsy Wiersma-Mother of HOPE (left)
Devon Billings-Primary Ethiopia Trainer (center)
Alissa Crowley-Tracker and Thanker (right)


They are also wonderful Bead-Beggars!

See the Torch Schedule
for Flame A Thon 5
Thanks to Bella Glass & Stencils for providing their facility, torches, fuel, oxygen and glass for this day-long event (as well as every OTHER days, by appointment).
Also, many thanks to all the big-hearted artists who will volunteer their time and talents to produce beads that will MAKE A DIFFERENCE!
Another Great Day for HOPE!