The Glenn C. Olson General Hospital
in Yetebon
Built, Staffed and Maintained by Project Mercy
On September 15, 2004 the new hospital saw it's first out patients.
Gradually, the hospital will grow into a full-service medical center
serving the Yetebon community.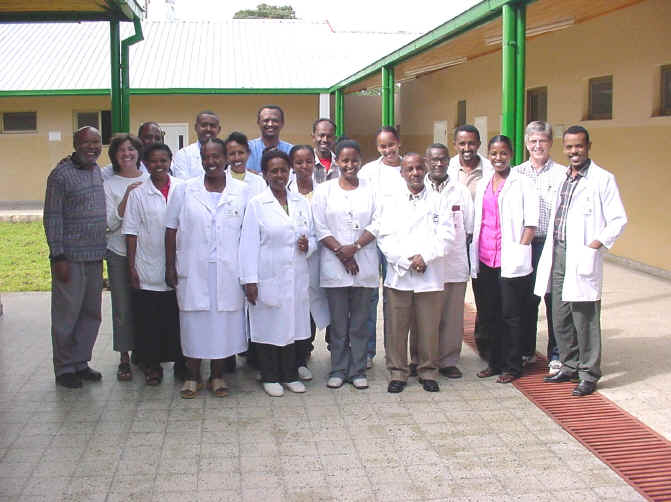 The wonderful staff at the hospital
This is the main patient entrance..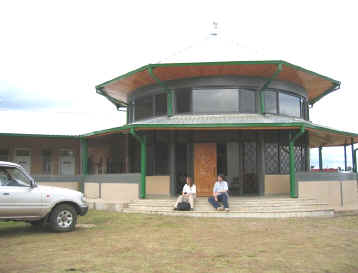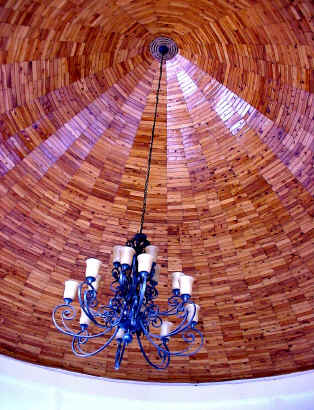 The ceiling of the hospital's main waiting room is awe-inspiring. The wood used comes from a native Ethiopian tree......species unknown.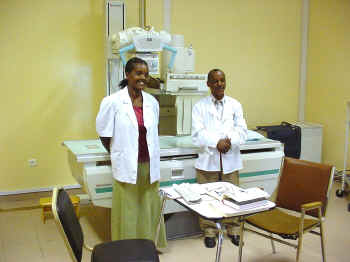 The X-Ray department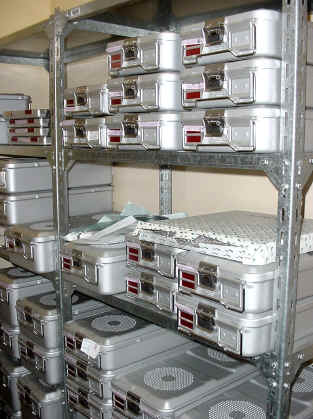 Sterilized surgical packs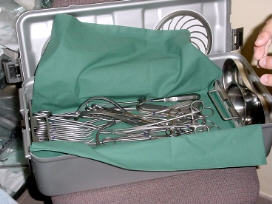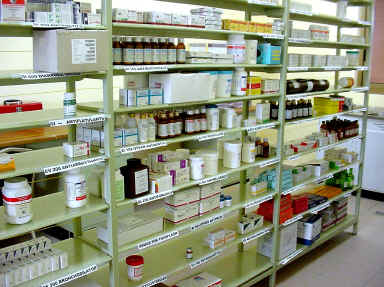 The Pharmacy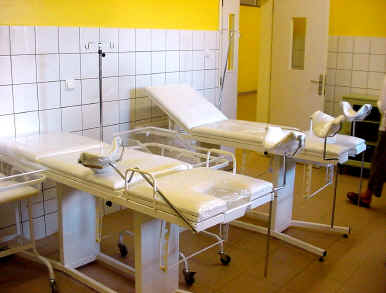 Obstetrics/Gynecology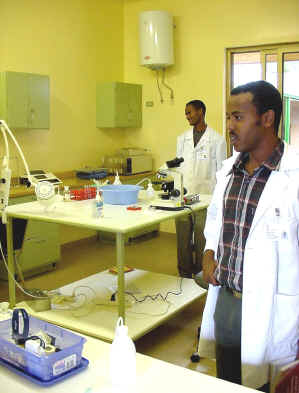 Lab and Technicians


Esayase (foreground) and his
co-worker are the guys who
collect and processes all sorts
of specimens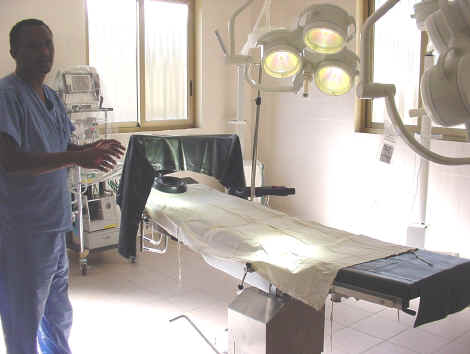 Dr. Berehanu and his colleagues
are very proud of their
operating room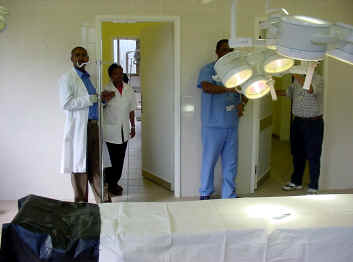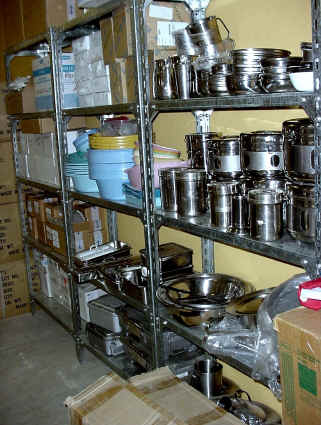 Central Supply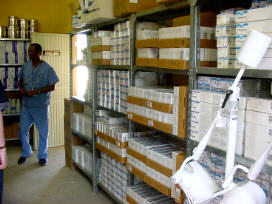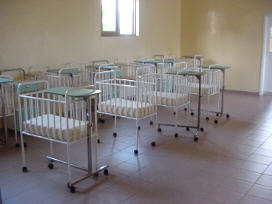 Cribs for the little ones...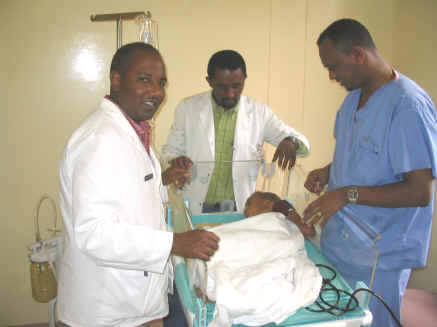 The First Inpatient --
A 3 year old's (yes, THREE) life saved by emergency surgery.
Dr Kassaye, Dr. Yohannes
and Dr. Berehanu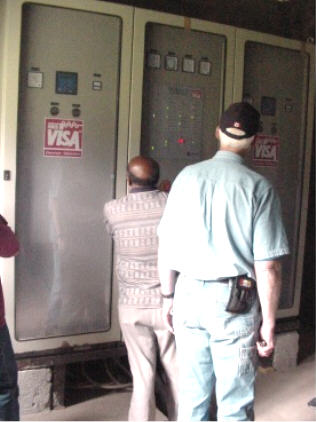 In case of power failure
it is essential that the hospital have
a back up generator.

This panel is one of THREE in all
of Ethiopia. It will turn on the
generator within 3 seconds
if the power goes off.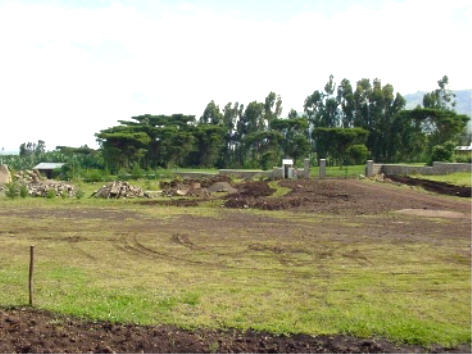 This is a view from the front door of the hospital looking out at the road.

Soon the landscaping here will be as lovely here as it is inside the campus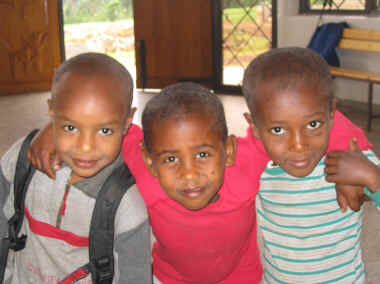 Three Small Project Mercy Outpatients
One can find, at any one time, between 50 and 65 little ones being raised by Marta and Deme.

Each has his or her own story. Some are orphans and some came after years of abuse...

Saving Lives Starts with Healthy Homes
Besides providing health care at the hospital,
Project Mercy is actively involved in providing instruction
(especially for new mothers) encouraging better hygiene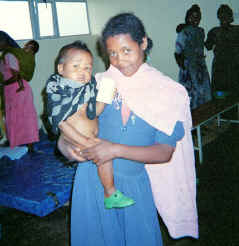 For instance, when washing a baby
it is important to start with the head
and work down....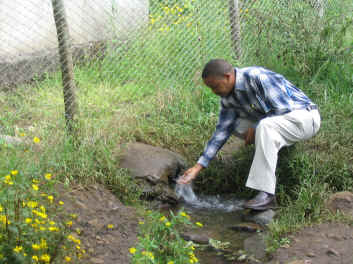 Marta and Deme
work closely with the environmental health office to dig wells,
providing clean drinking water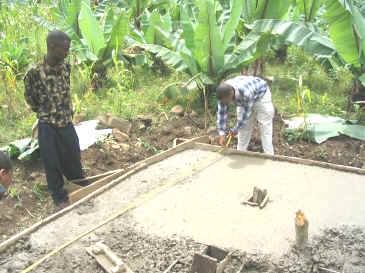 They also work together to
encourage the building of
latrines....one for each residence.
Here men are measuring
a latrine