2006-A Glass Studio
The HEART Project
In October, 2006, three beadmakers volunteered to visit Project Mercy to teach students there how to make HEART beads. We brought three torches, expanding the glass studio to a total of four torches. The studio expansion was made possible by generous donations from Glasscraft, Inc, Glass Torch Technologies, and D&L Stained Glass Supply.
Early in October, Tamara Domenico and I arrived to help set up the studio in it's new location near the dining hall.
Agere, who has been involved with the HOPE Bracelet Project since the very beginning in 2003, had spent several days clearing the room and installing the metal torch table (a HEAVY monster!) in preparation for setting up four torches. She and Tamara are busily setting out tools so we can start working.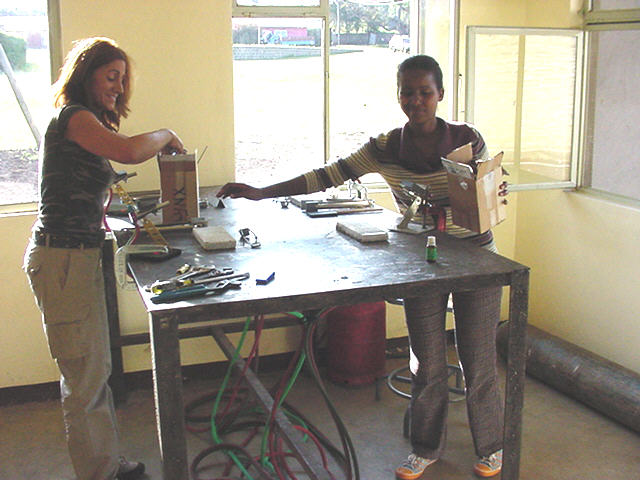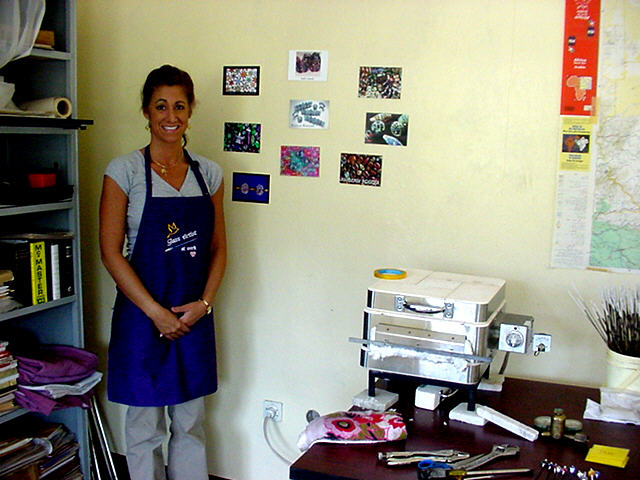 We set up the annealer on a separate table and Tamara used post cards from the ISGB 2006 Postcard Project to inspire the students and decorate the studio.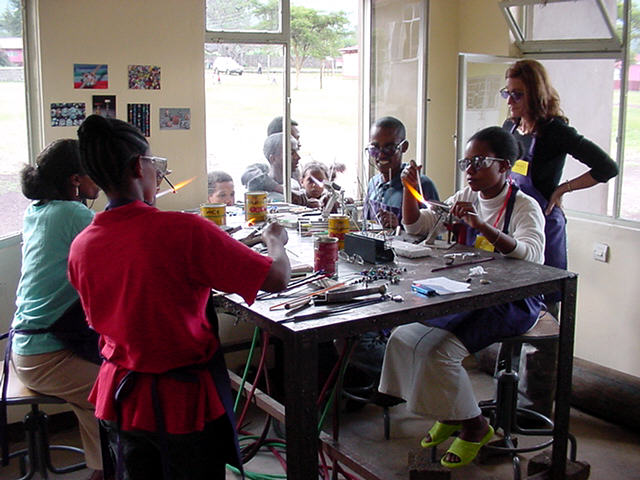 It wasn't long before we had everything all ready and we started melting glass at Project Mercy once again!
As in 2004, we had a constant group of spectators just outside the windows!
Beadmakers pictured (from left to right) are Dembele, Zinash, Tadesse and Alfya,
being watched over by Tamara.
After just a couple of days of basic beadmaking instruction, we started training the students how to make heart shaped beads. The heart beads will be marketed to Denver area high schools...another NOEL idea.....as a keepsake in lieu of flowers for Prom. Girls will be given hearts with horizontal holes so they can be worn using a ribbon either as a bracelet or a necklace. The hearts may be in the school colors or may match the girls' dresses. The men will wear hearts with vertical holes on stick pins.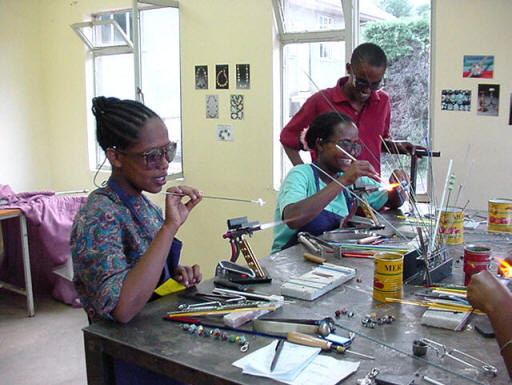 Zinash lets her creation cool just a little while Tadesse watches Dembele make a horizontal-hole heart bead.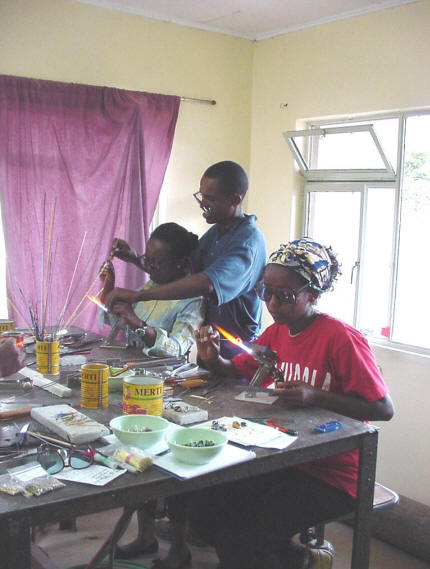 As we expected, it wasn't long before the new beadmakers were teaching studio visitors how to make beads. Here, Tadesse, who had made his first bead about 8 days before, is teaching Tigist, a hospital employee (who happens to be deaf) how to make her first bead.
Agere continues to be a key beadmaker in the group-- she specializes in hearts with vertical holes for men's stick pins.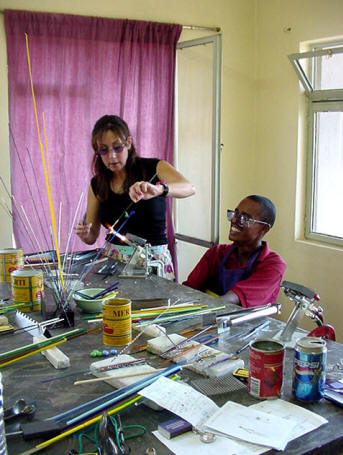 Just over a week after we began beadmaking in the new studio, Debbie Wells arrived with her own skills to pass on to the beadmakers. Here she helps Tadesse with a particularly difficult heart bead....showing him the finer points of heat control.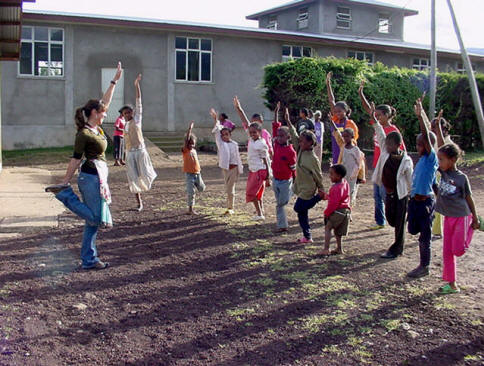 During breaks she helped the beadmakers learn the importance of taking breaks and moving around.....
Here she is teaching them some yoga moves. Several others joined in and proved to be quick studies, as well!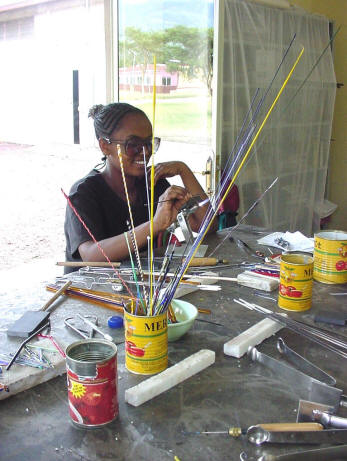 Gete, who has also been part of the HOPE Bracelet Project from the very beginning, happened to have a month-long break from nursing school. She was anxious to get back on the torch and within a couple of days was making wonderful hearts!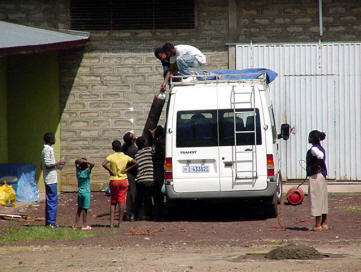 During the three weeks of our visit we consumed EIGHT large tanks of oxygen! These have to be transported all the way back to Addis Ababa to be refilled.
Addis is a 2.5 hour drive each way.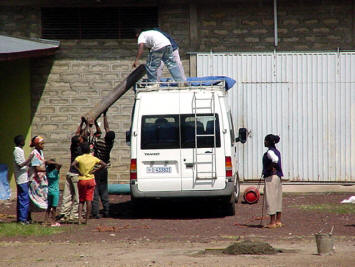 In Ethiopia it is not required to have a cap over the valve of the tank as is the rule in the US. When the tanks are returning to Yetebon full of oxygen, this is a dangerous proposition- particularly when the tanks must be carried ON TOP of a vehicle!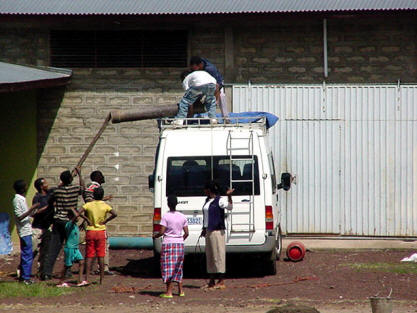 There were two empty oxygen tanks to load for this trip, as well as one large empty propane tank. The guys seemed to have a great plan for lifting these HEAVY tanks into place. Even so, I watched with bated breath!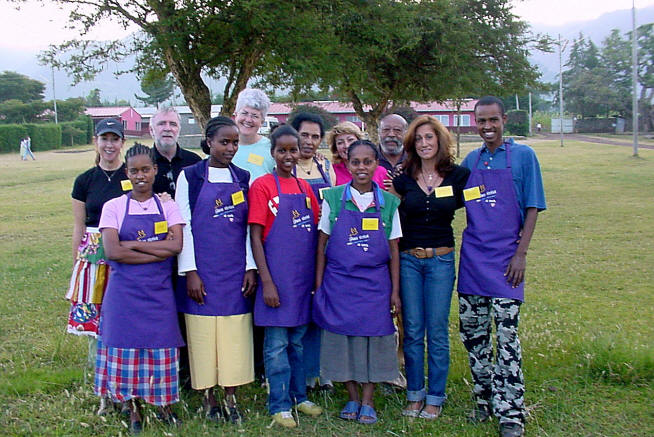 SO, this is the entire Bead Team-Sponsors, Teachers and Beadmakers. Thanks to Noel, orders for heart beads are plentiful. Thanks to the willingness of Marta and Deme in providing studio space, oxygen and fuel, NOT TO MENTION STUDENTS, we are off to a great start!
Each day the teaching team was gratified by the quality of beads being produced by these comparatively new beadmakers! We hope a few of them will decide to continue glassworking and make it a career....teaching the younger students and spreading the "bead addiction" in the process.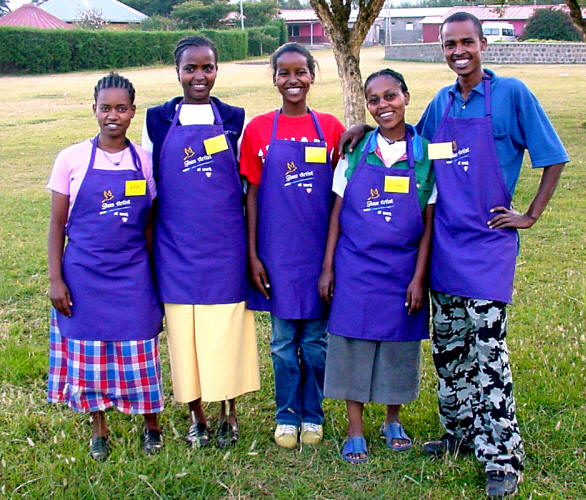 Gete, the sixth member of the beadmaking team, is missing from this photo. Pictured (from left to right) are Alfya, Dembele, Agere, Zinash and Tadesse. These young adults are amazing and are creating some beautiful beads!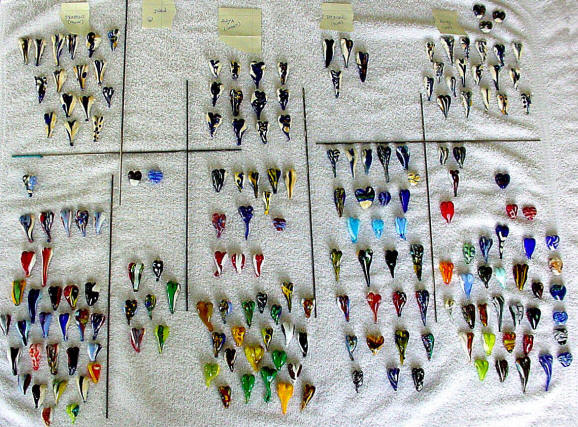 Check 'em OUT! In a mere 2 weeks, all these hearts have been created by the team.

(Sorry for the "quickie" image!)
Those depicted across the top of the picture are in Denver's Mullen High School colors. They will be offered for sale for Prom in the Spring.
Click the picture
to see a larger version