Addis Ababa-Ethiopia
the home of The Mercado...
Africa's LARGEST Open Air Market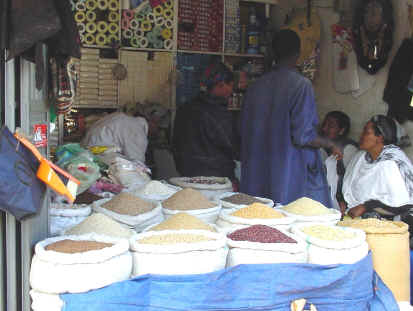 Where an Ethiopian can get
just about anything
he or she might need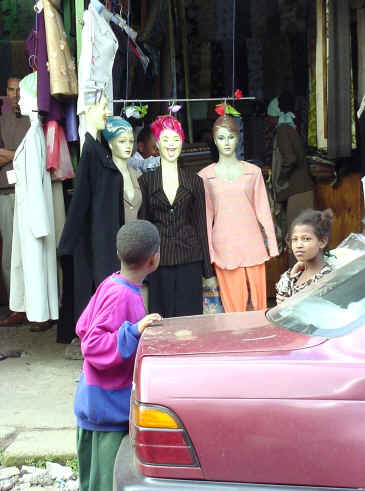 You can get clothes

OFF THE RACK...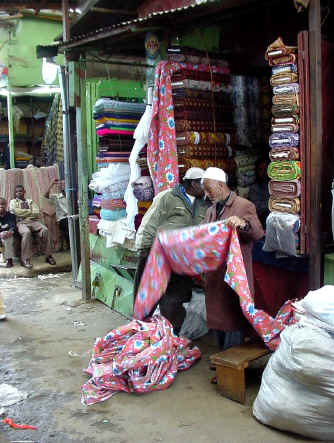 OR

You can buy the fabric
and make them yourself!
There are BLOCKS of
shops like this. It seems
that you just visit the section
of the Mercado that sells
what you NEED.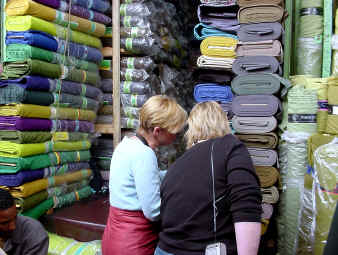 Teresa took us along
as she shopped for fabric

She is making uniforms for
the Kindergarten "itty bitties"
at Project Mercy,
and she and Devon are on a
search for "the perfect Purple".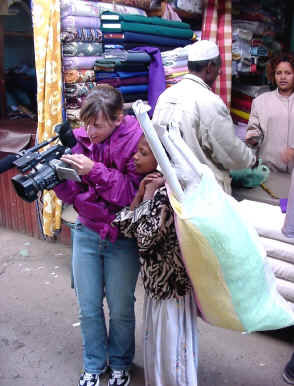 Patty, who is making a documentary,
picks up fascinated people
wherever she goes!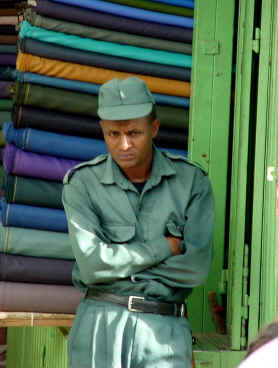 This guy kept an eye on
us wherever we went. We THINK
he was guarding us against
pick-pockets, who are a problem
here at the Mercado.
....but I'm not really sure....

Maybe he was waiting for ME to pull a fast one!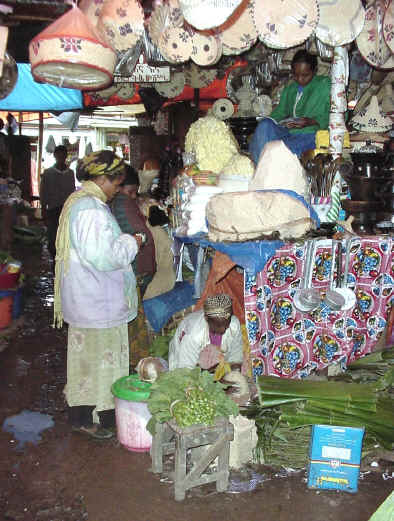 Then we moved on
to the
Food Section
Here you can purchase
false banana, banana leaves
and assorted other items.
Note that there are vendors
UNDER the table, as well!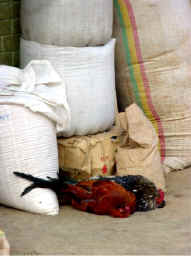 Chicken, Anyone? Yep, they're alive...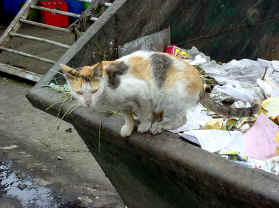 Life can be hard
in Ethiopia, especially
for the animals...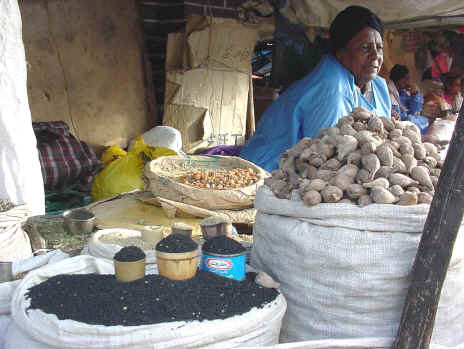 The FOOD section
was a photographer's
Paradise!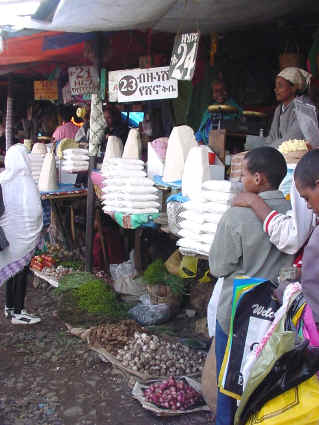 More false banana...
much of it prepared as flour
and bagged to sell
It was great to watch the people, but
WE were the center of attention

All us Americans with clicking cameras.
We seemed to do the best when we just
kept movin' ON...when we stood still
a crowd started to gather, it seemed.
AND, WOW....THE SPICES!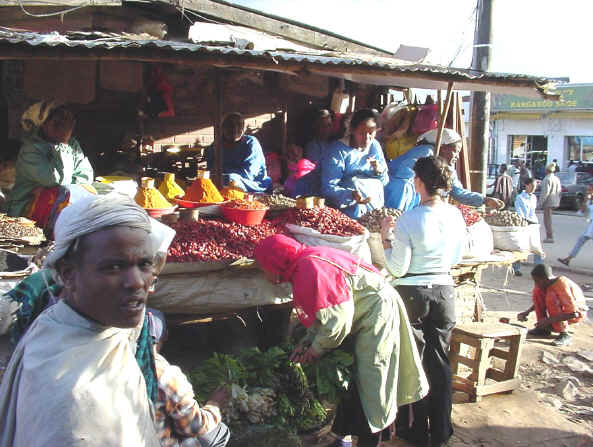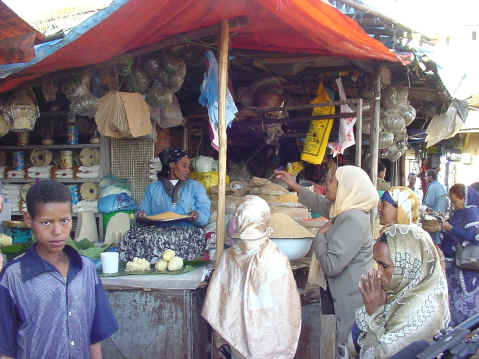 They were only
slightly less beautiful

than the
shoppers' CLOTHES

Magical!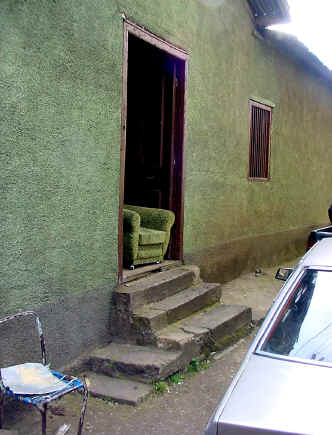 Near the Mercado
we passed through
Furniture Row....
Need a chair that
matches your HOUSE?
I'm not sure what this store sells,
but I would have LOVED to have gone inside!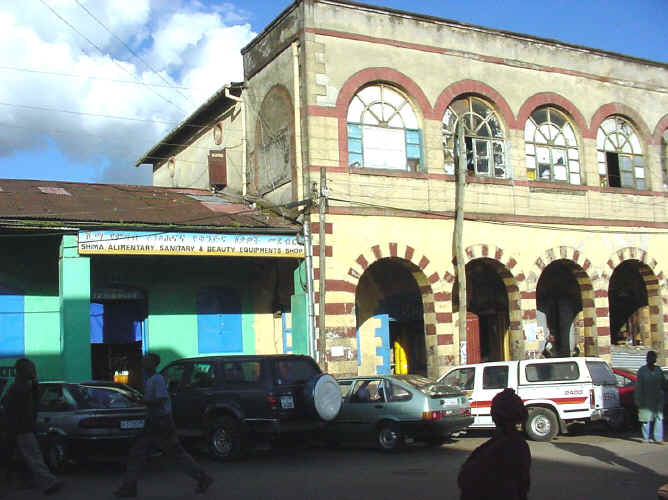 On one of our trips in Addis, some of the group stopped into the HILTON
to check their e-mail. A couple of us decided to take a walk, instead.....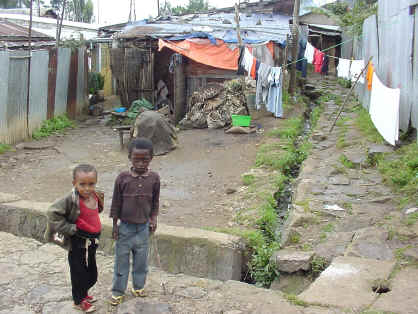 Just a block away
we walked through this
residential area.

The little ditches are
for waste runoff...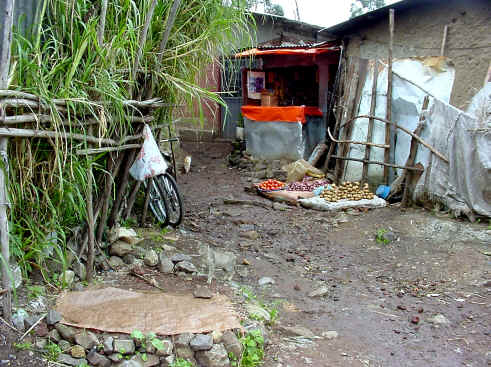 I believe this to
be the
neighborhood
market.

At least the KITTIES
looked healthier here...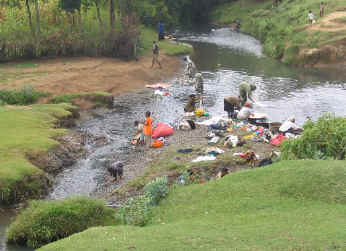 Further outside town,
I was able to get this
picture of women
doing laundry.
There was definitely some serious culture-shock involved here...especially for members of our group who had never traveled outside America before.
While Addis Ababa was exciting and all, I was especially anxious to head out for Project Mercy....

Life is so much different THERE!